Goodwill provides outsourcing options for manufacturing and industrial businesses. At our production facility in Radford we offer CNC routing, custom crate manufacturing, parts assembly, kitting, packaging, and product manufacturing. We accommodate both long and short-term projects. We also provide custodial services for large commercial spaces (over 10k square feet).
Custom Wood Manufacturing & CNC Routing
CNC Routing
We use CNC routers to manufacture furniture components for the furniture industry. We are experienced and equipped to handle your orders with accuracy, consistency and timeliness. Goodwill's custom wood manufacturing accommodates both small and high-volume runs.
Quality assurance and world class service are at the core of everything we do. Which is why many of our clients have trusted us with their custom wood and CNC routing needs for more than 15 years.
Custom Wood Outrigger Pads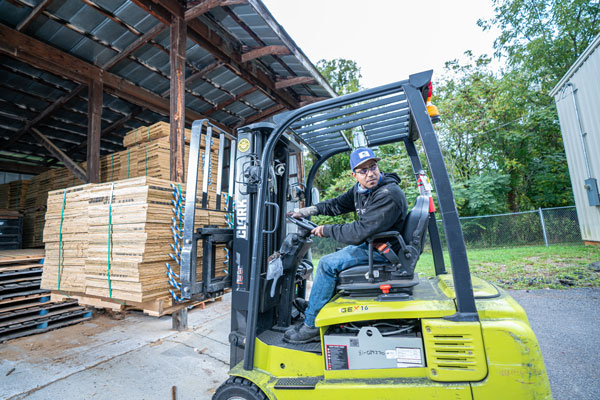 Goodwill produces wooden outrigger pads in multiple sizes for the trucking industry. We can customize outrigger pads for your needs and specifications.
Custom Wood Crate Manufacturing
Custom Wood Crates & Crating Solutions
Whether you need one or a thousand wood crates, Goodwill builds durable custom, high-quality wood crates to protect your valuable products for shipping nationally or internationally. Crates are built to your specifications. We construct our crates with PS1-07 plywood and HT SYP cleats, decking and runners. We build them to ensure the durability your need for your shipping and handling. Furthermore, we build them to last for years of warehousing and storage.
We can label your crates with your company logo and/or promotional signage. We can also customize your crates to fit your needs to include:
Carrying handles
Hinged lids and doors
Latches, hasps and locks
Foam lined interiors
Partitions
Drawers
Ramps
Casters
We will label your export crates to meet international shipping requirements.
We design your custom wood crates to be accessible with a forklift or standard hand jack.
Our experienced team will work with you to find the best wood crating solution for your shipment. We consider container style and wood material, internal structures and securement methods to ensure the safe shipment of your item.
Our customers trust our extensive experience in custom wood crate manufacturing to build the perfect wooden crates for their needs, ensuring their products arrive safely at their destination.
We build custom wood crates for a wide range of industries and uses including: commercial, industrial, product-specific, ISPM 15 export-certified, reusable, knock-down, mass produced, trade show, display, and military.
We build crates at any size and specification for heavy equipment, computers, electronics, IT equipment, moving, furniture, art, antiques, and more.
Dunnage and Cut Lumber
We sort and palletize dunnage to assist companies to cost-effectively recycle wood packing material. We can also produce new wood packaging material and cut lumber to your specifications.
Production & Assembly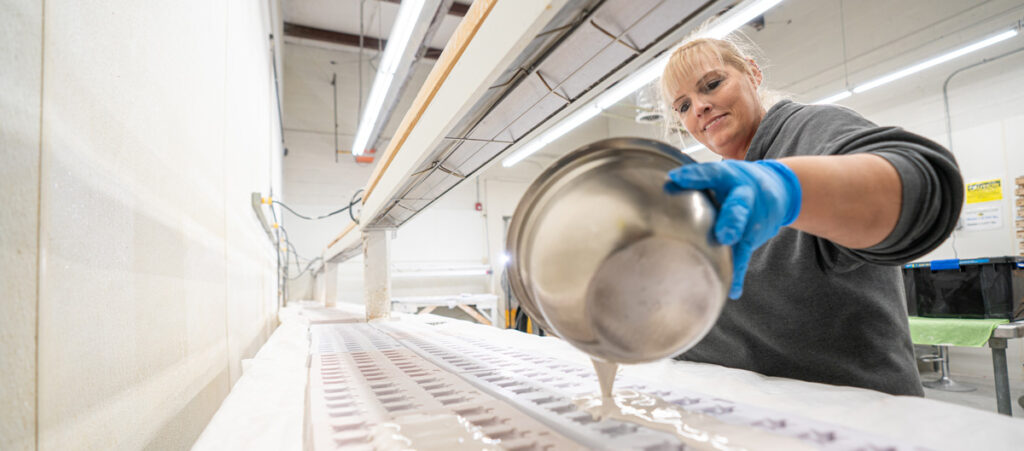 Assembly
Look around your work floor. There are any number of jobs that are not core to your business but are being staffed out of necessity. Goodwill offers quality assembly that is cost effective and helps clear your work floor for core business.
Do you have an assembly project that is not suited to high speed automation or is required only periodically? Goodwill's flexible workforce can meet your production needs at one or more of our facilities.
Kitting
Goodwill offers a parts kitting service that pulls together all the materials you require, constructs the optimal kit for your needs, and ships the kits to their final destinations.
We handle projects of varying scopes and sizes. Whether it is parts kitting or receiving components from multiple suppliers and putting all of it together, Goodwill will get the job done on-time and on budget. Our parts kitting team works with a variety of materials including metals, plastics, and wood and has the capability to bolt, solder, glue, screw, and tape, whatever the job entails.
We service customers who have SKUs for more than 200 kit sets. Goodwill's workforce will deliver successful parts kits in the most demanding time frames so you can meet your customer's needs.
Light Manufacturing
Goodwill produces finished goods and sub-assemblies from raw materials and goods.
Reverse Logistics
We provide a variety of services to help businesses manage their products once manufactured.
Services include repackaging, relabeling, inspection, refurbishing, sorting, end-of-life recycling, or a combination of these. Companies, including our own retail stores, rely on our reverse logistics expertise.
Keep your company's focus on the core activities, and let Goodwill handle the rest.
Packaging
We package products for shipment. Product packaging is necessary for many businesses, but it is not the work that drives your profit. We can help you meet your goals through cost-effective and custom solutions for your packaging needs.
Custodial & Floor Care Services
Goodwill offers commercial custodial services throughout our 35-county, 14-city service area of Virginia. We accommodate businesses that need service 5 – 7 days a week and have 10,000 square feet or more of space.
Our teams are dependable, pre-screened, and trained to meet your custodial needs. We perform background checks and drug testing for all employees. Additionally, our team members receive training in blood-borne pathogens, hazardous communications (SDS), and general cleaning standards.
Our team works flexible hours to respond to your business needs and provides expert oversight for quality results.
We use modern equipment and products that are eco-friendly. As part of our quality assurance program, we conduct site inspections to identify opportunities for improvement and overall quality.
For more than 25 years, we have worked with local, state, and federal government, educational facilities, commercial businesses, and property management companies. Our crews currently clean over one million square feet of space every week.
If you need world class service at your facility, contact us for a free quote.
 What Makes Goodwill Different?
We strive to provide top quality products and world class customer service.
Goodwill is a nonprofit dedicated to serving our mission.
We recognize that everyone is created with unique strengths and gifts. We match people with jobs where they will be successful.
We provide trained, efficient, and safety-focused staff to meet your business needs.
Benefits for Your Business
You receive high quality service at a competitive price. You also provide work opportunities for people with barriers to employment.
Our employees believe in the mission of Goodwill: Empowering Individuals. Strengthening Facilities. Inspiring Communities.
You support a local nonprofit and help fund the Goodwill mission.
Contact us today for your customized quote! Email info@goodwillvalleys.com or call (540) 581.0620 for complete the contact form above.