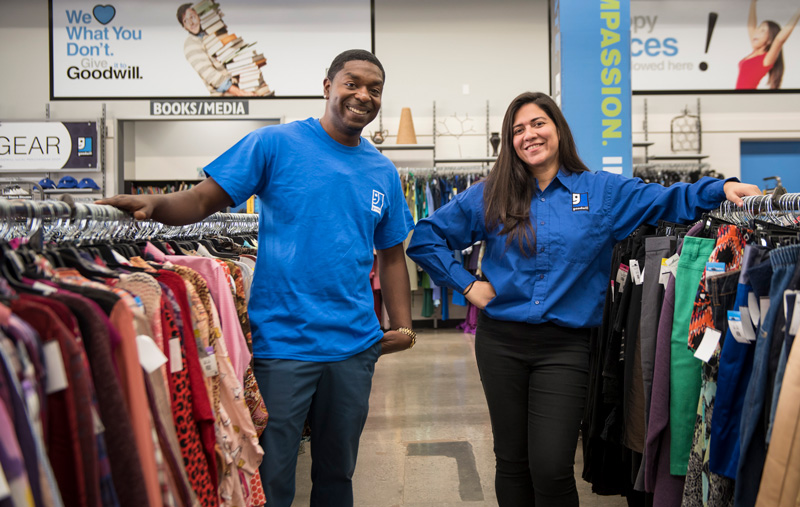 Make a difference in your future by advancing your career at a nonprofit that Forbes ranks as one of the 25 most inspiring organizations in America.
As part of the Goodwill team, you can make a real, measurable difference in people's lives every single day. When you work at Goodwill, you'll find a rewarding, diverse environment and great employee benefits. You'll also work with teammates who are committed to their work and to Goodwill's mission.
Founded over ninety years ago, Goodwill Industries of the Valleys is committed to the vision of eliminating poverty through our mission of empowering individuals, strengthening families, and inspiring communities. Goodwill team members are at the heart of this mission. They are the very individuals we aim to empower, part of the families we want to strengthen, and members of the communities we want to inspire. Through a team-centered model, Goodwill is more connected to the areas we serve. Our team members are the ones who drive innovation, further the impact we make for those we serve, and define the very culture of our organization.
What is a team-centered culture exactly? It's a commitment to team member development, improved and efficient processes, and a dedication to providing the support needed to be successful. From our retail locations to our production teams, support staff, and those on the front lines of our mission work, every role within the organization is vital. Collaboration on all levels, sets up both the individual and the organization for success. We would love to have YOU be a part of that success – apply today!
Goodwill Benefits for Full-Time Employees
Medical, dental, vision insurance and prescription coverage
Teledoc virtual medical care for employee and entire household
Flexible Spending Accounts
Health Savings Account with employer contribution
Retirement savings plan with employer contribution
Paid time off
9 Paid holidays + 1 paid floating holiday
Career counseling, professional development, and opportunity for advancement
Educational Assistance
Life Insurance
Disability insurance
20% Employee store discount
Employee Assistance Program
Goodwill Benefits for Part Time Employees
Dental Insurance
Teledoc virtual medical care for employee and entire household
Accident Insurance
Paid time off
Retirement savings plan with company match
Employee Assistance Program
20% Employee store discount
If you are a current Goodwill employee, sign in to your UKG account, go to "my information", then "my career" to view open positions and apply.
Goodwill Industries of the Valleys is committed to equal opportunity in employment regardless of race, color, creed, age, gender, national origin, physical or mental disability, or veteran status in accordance with applicable federal and state statutes and regulations.
We are committed to providing individuals with disabilities access to webpages. If you use assistive technology (a screen reader, Braille device, or other assistive technology) and are not able to access the information on this site, please contact:
Human Resources Department
(540) 581.0620 ext. 1185 | career@goodwillvalleys.com
Questions regarding career opportunities at Goodwill? Please contact: career@goodwillvalleys.com.
This Employer Participates in E-Verify
EOE/Minorities/Females/Veterans/Disability