Goodwill Industries® of the Valleys provides training and employment services to people who face challenges, disadvantages, or disabilities. Our goal is to help people in our local Virginia communities find a job, train for a better job, or learn life skills so they are able to achieve their greatest potential.
We are changing lives and communities by helping people help themselves and providing a pathway for success.
Goodwill's services are available at no cost to eligible applicants. How is that possible? Because of your donations of goods and clothing! Most of the funding for program services comes from the sale of donated items in our stores and online marketplaces. In addition, generous financial donations from public and private donors provide program support.
Goodwill programs are transforming lives through the power of work.
Reentry Services
Finding employment can be challenging for anyone. But for men and women who have a criminal history, it can seem impossible.
If you have a history with the justice system and want to get back to work, Goodwill's reentry services can help. We will help you get the training you need and support you along the way. Once you have completed your training, we will make every effort to place you in employment that puts you on the path to long-term success.
If you are interested in gaining the confidence and skills to build a stable, productive life, fill out the form below. Once we have received your form, we will reach out to you with more information about our reentry program.
Healthcare Careers Training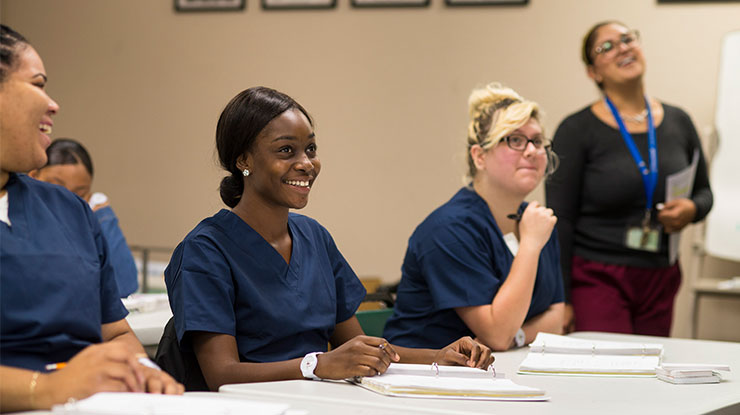 Goodwill's GoodCare healthcare program offers training to help you begin a career in the healthcare industry. We partner with local community colleges and adult education programs to provide training for a wide variety of careers in the healthcare field. Career paths include health information, nursing, and healthcare support occupations. For example, health records coding, licensed practical nurse, or pharmacy technician are just a few of the healthcare pathways offered by GoodCare.
We will also help you with life skills training and support to give you the greatest opportunity to achieve success.
Space is limited and eligibility applies, so don't wait. For more information, complete the form below and we will contact you.
Goodwill's GoodCare Program is offered to individuals living in the Roanoke Valley, Franklin County, Pittsylvania County, Danville City, Martinsville City, Lynchburg, Madison Heights, the New River Valley, Carroll County, and Galax City.
Employment Services
If you have a low income or face other disadvantages, you may qualify to receive career services and job training. Goodwill works with local community partners to provide training for high demand occupations. Plus, Goodwill will help you find a job.
Goodwill operates the Workforce Innovation and Opportunity Act (WIOA) Adult program for multiple Workforce Investment Areas in Virginia. The program is designed to help adults receive training in in-demand occupations and find employment.
Training services include:
Occupational skills training
Skills upgrading
On-the-job training
Pre-apprenticeship and apprenticeship training
Academic and career preparation
In limited cases, help with transportation and child care to attend training
These services are provided at no cost through the Workforce Innovation and Opportunity Act (WIOA). The program is offered to individuals living in the Counties of Albemarle, Amherst, Floyd, Fluvanna, Greene, Madison, Nelson, and the Cities of Charlottesville and Radford.
Employment Services for Adults with Disabilities
Goodwill provides training and employment for adults with disabilities that includes ongoing support and placement in competitive community employment. Individuals in the program benefit from case-managed services provided by Goodwill Employment Specialists who have completed training and received certification with the Association of Community Rehabilitation Educators.
Individuals may be referred for Employment Services by the Department for Aging and Rehabilitative Services and by local Community Service Boards.
Workforce Training for Older Workers
Workers age 55 and older who have a low income may qualify for Goodwill workforce training services for older adults. If this describes you, and you are unemployed, the Senior Community Service Employment Program (SCSEP) can help you get back into the workforce.
How does it work? Through SCSEP, you will be matched with a community service job that fits your preferred schedule, physical requirements, and desired location. Goodwill staff will also match you with a job that fits your unique skills and training needs.
Once your community service training is complete, we will help you find full or part-time employment. People like Iris, are enjoying full-time employment and fulfilling careers with help from the SCSEP program. View Iris' story to find out more. Begin your journey today by filling out the short interest form below.
Goodwill® proudly participates in the Senior Community Service Employment Program (SCSEP), a national employment and training program funded by the U.S. Department of Labor. A $22,836,313 grant from the U.S. Department of Labor provided 90 percent of the funding for Goodwill's SCSEP programs in the program year 2023. Goodwills provided the remaining 10 percent through in-kind contributions worth more than $2,537,378.
See goodwill.org/scsep for funding details. Goodwill Industries of the Valleys, Inc. received a sub award of $1,724,272 and is contributing in-kind contributions valued at $200,404 to cover the remaining 10 percent of operational costs.
High School Equivalency Programs
Get your high school equivalency diploma. Goodwill and the Roanoke Valley – Alleghany Region 5 Adult Education offer adult students the opportunity to complete a program to earn their GED® or National External Diploma Program®. Instruction available:
Monday, Wednesday, Friday from 9 am – 12 pm
Tutoring by appointment
To enroll or for more information fill out the form below.
Medicaid Waiver
Group day support, community engagement, and community coaching services are offered to individuals based on their preference and interests. These services provide a wide variety of opportunities in both community and center based settings. Those enrolled in the program may engage with their peers, enhance their social networks, and build life skills while participating in community activities.
Discovery Services Group Day Support
Goodwill's Discovery Services provides day support for individuals with intellectual, emotional, and physical disabilities. The programs encourage independence. They also enhance skill development through community integration and structured group activities.
Discovery Services Community Engagement
Individuals who have an interest in in exploring their communities and increasing their interpersonal skills, may participate in community activities.
For instance, community activities may be a trip to the mall, bowling, dining out, or a visit to the petting zoo. We have also enjoyed trips to Claytor Lake and Peaks of Otter. Individuals may also participate in volunteer experiences such as clothing and food banks.
Programming is offered at the Roanoke Jobs Campus, Radford Jobs Campus, Rocky Mount Jobs Campus, and Danville Jobs Center. Individuals living in Goodwill's 35 counties and 14 cities service area are eligible for services, however are responsible for their own transportation.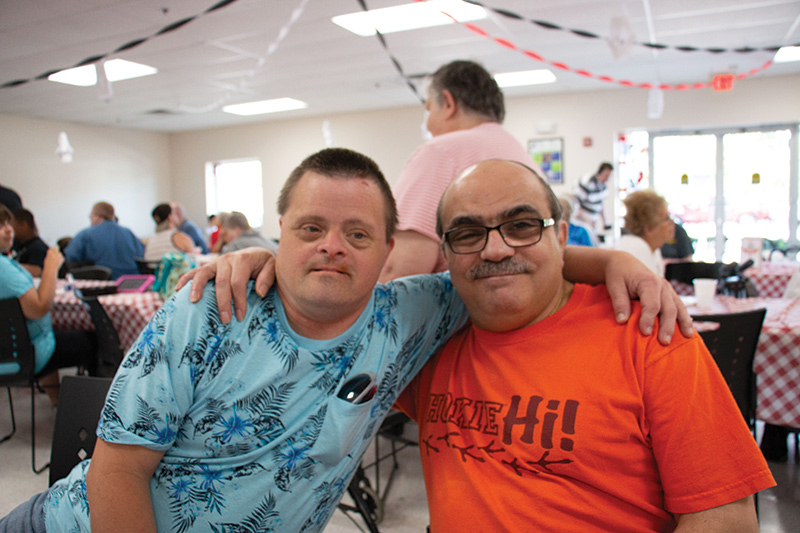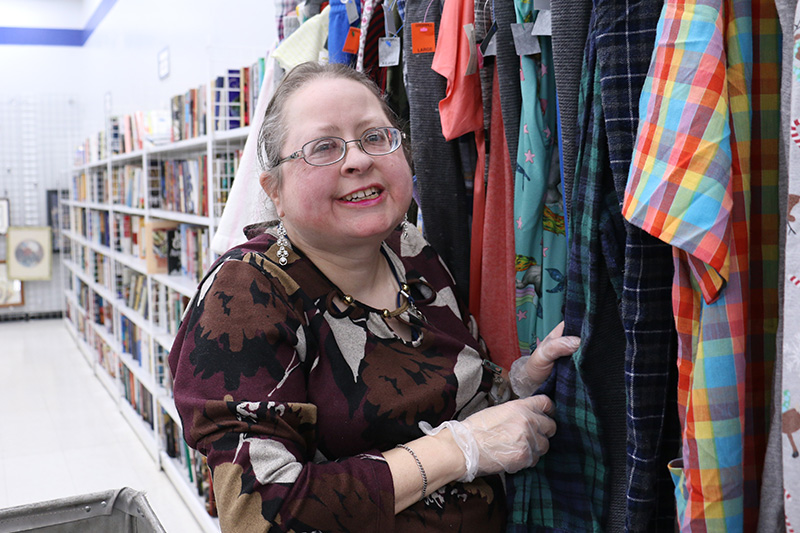 New Vision Services for Adults who are Blind and Visually Impaired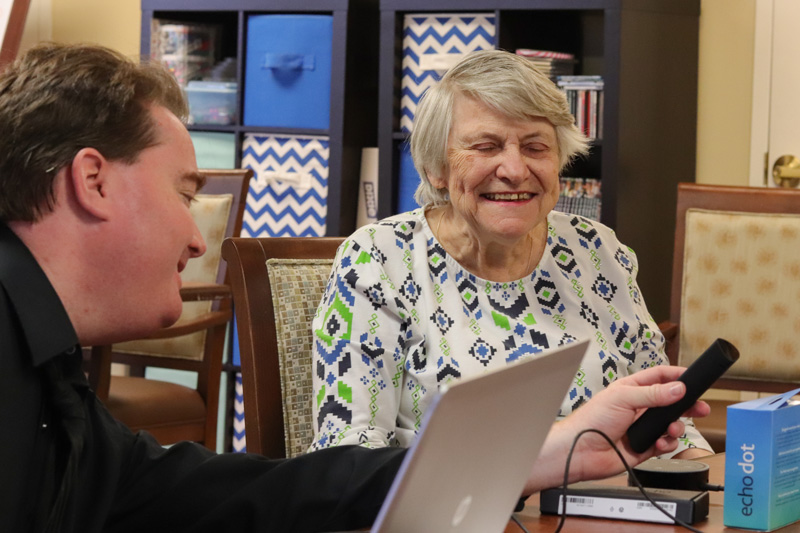 New Vision at Goodwill seeks to help people who are blind and visually impaired live more independently. We educate, inform, and provide resources so that people with visual impairments can live their fullest lives.
The New Vision offers free instruction on how to use the latest technology and devices to connect to the world and increase independence. The New Vision program is open to anyone who is blind or visually impaired. Services include:
Virtual Training

Personal electronic devices can enhance the lives of people who are blind and visually impaired. New Vision offers free instruction on how to use the latest technology and devices to connect to the world and increase independence. Instruction can be provided, in many cases, virtually via telephone, Zoom, Microsoft Teams, and FaceTime. Please contact David Ward or call (540) 985.8900 to find out more. Virtual Training hours are Monday – Thursday from 9 am – 4 pm.

Echo Tips Podcast

Our Echo Tips Podcasts feature the latest tips for the Echo and updates on various features.

Blue Ridge Reading:

This Alexa Skill allows you to access the WVTF's Radio Reading Service live stream, hear the daily schedule or listen to recent programs or podcasts. You can simply say "Alexa, open Blue Ridge Reading" and follow the simple audible prompts. The Blue Ridge Reading Service Alexa Skill is provided by WVTF and New Vision at Goodwill.

On Demand News Service

Available 24/7, On-Demand News Service provides local, national, and world news from over 500 publications.

Radio Reading Service

New Vision partners with WVTF to provide special radios for people who are blind and visually impaired or have a print disability. Listeners tune to a sub-frequency to hear a program mix of readings from local and national newspapers and magazines. Apply for a Radio for the RRS Service.
Recent editions of the New Vision Newsletter are available below.
November 2023
October 2023
September 2023

For more information about Goodwill programs, e-mail info@goodwillvalleys.com or call (540) 581.0620.